The Saint Louis Art Museum (SLAM) was founded in 1879 and dedicated entirely to the love of Art. Located in beautiful, historic Forest Park, the Saint Louis Art Museum hosts a world-class and varied collection of original works of art and artifacts, spanning the globe, in one of the most impressive buildings in the city of St Louis. Admission to the Museum is free every day, and admission to special exhibitions is free on Fridays.
The Museum employs a staff of 250+ employees, many of whom hold national and international caliber scholarly credentials and are active in conducting and publishing research across a number of fields.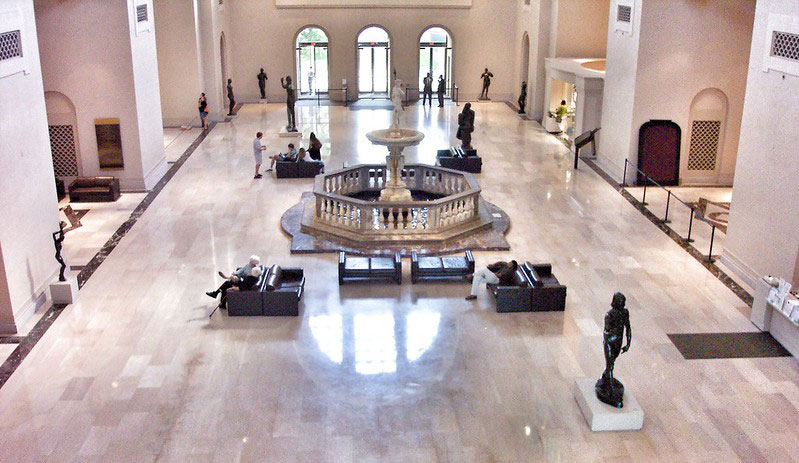 Art Museum History
The museum was founded in 1879 as the Saint Louis School and Museum of Fine Arts (part of Washington University in St. Louis) and located in a downtown building. The building was originally built by Wayman Crow as a memorial to honor his son, Wayman Crow Jr. Crow employed Boston architects Peabody & Stearns to design the building located at 19th and Lucas Street.
The museum moved after the 1904 World's Fair, also known as the Louisiana Purchase Exposition, to the Palace of Fine Arts, built for the fair from 1902 to 1903. The building was designed by architect Cass Gilbert, who took inspiration from the Baths of Caracalla in Rome, Italy. The Mildred Lane Kemper Art Museum remained part of Washington University, and the collection was lent to the Saint Louis Art Museum for several years.
2021 Exhibition Gallery – Nubia: Treasures of Ancient Africa
The latest exhibition presents the Nubians' artistic achievements, including magnificent jewelry, pottery, sculpture, metalwork, and more and showcases the collection of the Museum of Fine Arts, Boston. Through Nubian art, the exhibition examines concepts of power, representation, and cultural bias in the ancient world, in the early 20th century, and today. This exhibit runs from April 18–August 22, 2021 at the Saint Louis Art Museum.
Saint Louis Art Museum Café
Enjoy casual fare including lunch options and snacks crafted with creativity in our quick-service café. Hours are 10am – 4pm Tuesday-Thursday and Saturday and Sunday, and 10am – 8pm on Friday.
Host an Event at the Art Museum
Featuring stunning facilities, including classic galleries such as Sculpture Hall, the Saint Louis Art Museum is an elegant setting for your private event. With many space and catering options to meet your specifications, we can accommodate everything from small, intimate parties to grand-scale receptions.
Art Museum Tours
A private, guided tour of the Museum's exhibitions or collection is a lovely complement to your event. Tour options include a docent-led or self-guided tour through main exhibitions, a collection tour that highlights specific artistic movements or historical eras or a tour that features works of general interest. Gallery tours must be arranged upon scheduling your event and will be included on the formal contract.
SLAM – Nearby Hotels
SLAM – Nearby Restaurants
Saint Louis Art Museum Social media links: Facebook | Twitter | Instagram | YouTube
Photo Credits: Ted Engler & Onasill ~ Bill