Free Missouri Events – June 2021
Scott Joplin Ragtime Festival – June 2, – June 5, 2021
The Scott Joplin Ragtime Festival music entertainment located outdoors around the square are free, concerts and symposia are paid venues. The four-day festival is packed with rattling good fun; concerts feature Ragtime Legends and Festival Favorites; the free open-air venues feature the up and coming ragtime performers; symposia provide insights into musicology and offer continuing education credits; special events include the Joplin Footsteps Tour and the ever-popular Cakewalk Dance. The Scott Joplin International Ragtime Music Festival is recognized as the premier cultural arts event celebrating this musical heritage. You can also watch this event live on YouTube!
Music in the Park Concert Series – June 4 – 25, 2021
Historic Downtown Sikeston is excited to announce the line-up for our 2021 Music in the Park Summer Concert Series. This event will take place in Legion Park from 6PM-8PM each Friday Night in June and July, except for July 2nd. There is no charge for admission, so feel free to bring a lawn chair, some food, and your entire family to Legion Park in Historic Downtown Sikeston. Food trucks and restaurants on site.
Kidsfest and Bass Pro Outdoor Days – June 5, 2021
KidsFest is a fun-filled day dedicated to children and their families. This area-wide event brings families together for an exciting day of fun. Young children through tweens will enjoy games, demonstrations, and activities! Sponsored by JC Parks, Bass Pro Shops, KRCG-TV, and Healthy Blue. There will be a variety of concession opportunities and vendors with items for sale. Location: Ellis-Porter Riverside Park, 1425 Riverside Dr. (Jefferson City, MO) 
Bluff City Theater Presents: Trying by Joanna McClelland Glass – June 9 – 20, 2021
This sweet and poignant play depicts the final year in the life Francis Biddle—United States Attorney General under President Franklin D. Roosevelt and Chief Judge of The Nuremburg Trials following WWII. The final period of his life, spent attempting to write his memoirs, is portrayed through the eyes of his twenty-five-year-old assistant, Sarah Schorr. The story revolves around issues of aging as a true American hero comes to terms with his own mortality. Shows run Wednesday through Saturday at 7 p.m. and Sundays at 2 p.m. Performances are outdoors in Historic Central Park. Admission is free but you must reserve seats in advance via Bluff City Theater – Donations are gratefully encouraged and accepted.
Twin Pines Conservation Education Center Program: Wild Berry Jam – June 12, 2021
Saturday, June 12, 2021 from 10:00 am to 12:00 pm Location: Twin Pines Conservation Education Center. Enjoy nature's bounty throughout the year by discovering the many different plants you can harvest to make jams and jellies. Participants will get a chance to make and take home some jam. The minimum age for this class is 16 years old. Reservations are required. Make reservations on line at www.mdc.mo.gov/twinpines.
French Heritage Festival – June 12, 2021
The French Heritage Festival is held each year in Ste. Genevieve's National Historic District. This event celebrates 300 years of French culture in North America from Quebec to New Orleans and recognizes Ste. Genevieve's status as having the greatest concentration of authentic French Colonial architecture that exists in North America. The festival includes music, dance, storytelling, French cuisine and other refreshments, an evening open air dance with Creole music, wine and beer, reenactments, promenades (parades), and French Colonial architecture tours.
Big BAM (Bicycle Across MO) Finale – June 18, 2021
Missouri Life Magazine's Big BAM (Bicycle Across Missouri) will culminate in Ste. Genevieve in 2021. For the first time, bicyclists will ride in Southeast Missouri beginning June 14 from Poplar Bluff to Sikeston, Cape Girardeau, Perryville, Farmington, and finishing in Ste. Genevieve. Riders will be sampling local foods and spirits along the way. On June 18, 2021, the public is welcome to celebrate the finale of this ride with live music, food booths and a beer garden in the evening.
Father's Day Whole Pig Roast – Hermann Wurst Haus – June 19 – 20, 2021
Hermann Wurst Haus – Let Dad pig out at our pig roast! Enjoy a whole pig roast dinner with all the trimmings for $15.95 served Saturday, June 19, 5 p.m.-8 p.m.! Drinks extra. Father's Day Weekend Hours: Friday 9 a.m.-4 p.m., 5 p.m.-8 p.m. Saturday 8 a.m.-4 p.m., 5 p.m.-8 p.m. Sunday 8 a.m.-2 p.m. All-you-can-eat Wurst breakfast Saturday & Sunday 8 a.m.-noon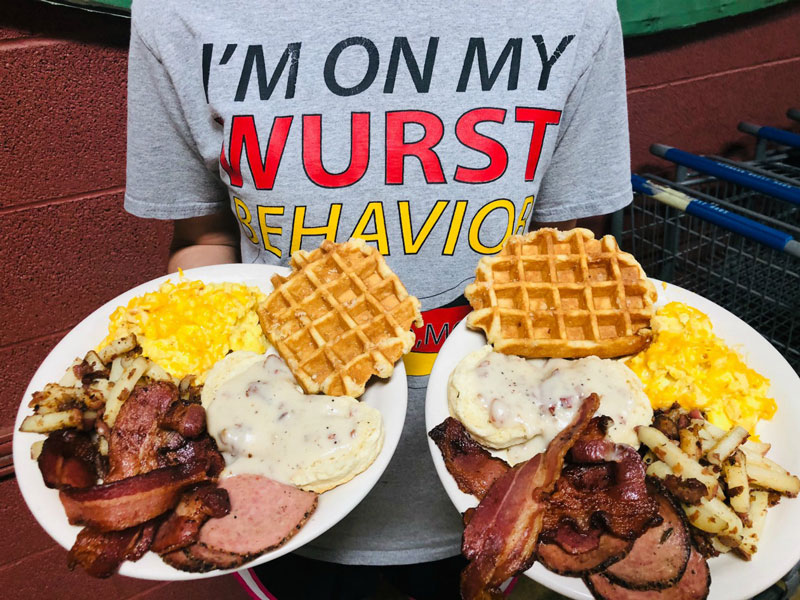 The Carnivor Festival – June 19, 2021
Carnivor is the Midwest's Best Meat Festival and is held each June in Marshfield, Missouri on Route 66. Join us for great food, with vendors serving all sorts of meat products, Route 66 related gifts, a large classic cars show, huge outdoor-stage with live music and a nationally sanctioned Steak Cook-off with thousands of dollars in prizes and trophies. The fun starts at 3 p.m. and runs 'til midnight. You really need to experience Carnvior in 2021.
Great Race 2021 Cape Girardeau Overnight Stop – June 22, 2021
In 1983 a few car enthusiasts started up the Great Race as a passion project.37 years later and the Great Race is still a top-class event filled with excitement and action. Cape Girardeau last hosted the Great Race in 2013 and we are thrilled to be welcoming them back to town on June 22, 2021! The Great Race, the world's premiere old car rally, will bring 120 of the world's finest antique automobiles to town for the $150,000 event, with the first car rolling onto MainStreet downtown starting at 5:15 p.m.
Cajun Festival – June 25, 2021
Washington Missouri Farmers Market Cajun Festival – Cold beer, live music, dancing and Cajun food at the Farmers Market, 317 W. Main St. 6 p.m.-10 p.m. Covered pavilion; bring lawn chairs. Free admission and parking. No pets or coolers.
Harold's Famous Bee Company – June 26 – 27, 2021
Honey Festival + Market – Bee-utiful Historic Downtown Ste. Genevieve will be abuzz this June! Wander the festival grounds and talk to beekeepers selling honey and other products from the hive. Take part in one of our many classes or demonstrations, taste and vote for your favorite honey, shop 'til you drop, then grab a bite to eat from one of the many food vendors. More information as well as vendor applications will bee available soon!
Celebrate Neosho – June 26, 2021
Join in the 2021 Celebrate Neosho, an event designed to truly "celebrate Neosho". You may start as early as 8:00 a.m. with the Tour De' Morse Bike Race or the Hickory Crick Trout Fishing Derby or wait a bit for the Disc Golf Tournament or just sleep in and join the activities when the Festival opens at 3:00 p.m. Vendors, live performances, activities, such as a Corn Hole Tournament, drift trike racing, additional activities provided by Scout Troop 34, and more. Meander through the displays that mark the lives of notable persons from Neosho, such as George Washington Carver, Thomas Hart Benton, Herman Yeager, and Hugh Robinson. Mark the days past with displays about Fort Crowder, the U.S. Park Service Fish Hatchery, Rocketdyne, and more. Beginning at 5:00 p.m. participants will begin to cruise Neosho with opportunities to park adjacent to the Festival for attendees to view their cherished rides. Close out the evening at approximately 9:30 p.m. with a grand fireworks display! A great day of fun, free access to the Festival, pre-registration for entry into the various contest that each showcases an individual feature of Neosho. Celebrate Neosho by celebrating with us!
featured image credit: Greg Gjerdingen