St Louis best bowling alleys
St Louis is a great city for a bowling with family and friends and there is a bowling alley out there that matches your style. Here are our picks for the top bowling alleys in St Louis Missouri.
Top 8 Bowling Lanes in St Louis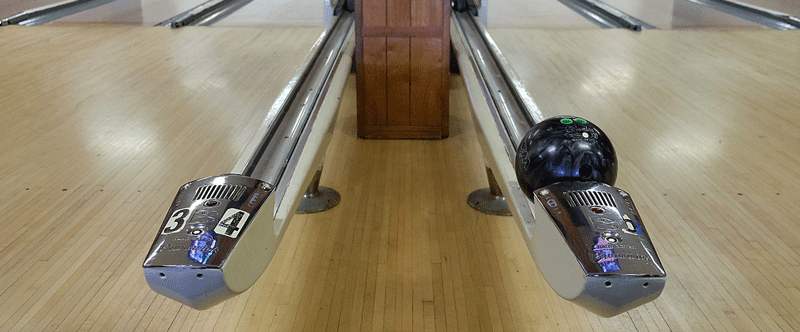 Saratoga Lanes
In the 1930's Saratoga became so popular that it was the only alley in St. Louis County to survive the Prohibition and the Great Depression. It also became one of the first bowling alleys in the country to host women's and mixed leagues.
St. Louis' most famous bowlers, the the Stein family managed the lanes for decades. Hall of Famer Otto Stein Jr. won the national ABC Tournament in 1929 and the National Match Game title in 1934. His brother Clarence hosted celebrity matches pitting Otto and his Maplewood fellows against legendary bowlers from across the country. In the 1950s automatic pinsetters and ball returns allowed Saratoga to survive the birth of suburban standalone bowling complexes. As other alleys came and went, Saratoga always found a way to keep on.
Rates: Weekday Rates: $3 per game, $2 Shoe rental (add $1 for weekends)
2725 Sutton Blvd, St. Louis, MO 63143 * Saratoga Lanes
---
Flamingo Bowl
At Flamingo Bowl, you'll have great views of Washington Ave in downtown St. Louis. The beautiful art-deco décor and colorful design create a fun atmosphere. You'll enjoy our delicious food and signature cocktails – even if you're not bowling! We serve food late night until 2:00 am.
The Flamingo is known for having some amazing private parties in St. Louis. Customers can enjoy cozy lounge areas, a pool tables, and state of the art bowling lanes. Schedule your wedding rehearsal dinner or get the group together for a team-building event venue.
Before 9:00 pm $4 per person, per game
After 9:00 pm $5 per person, per game
Shoe Rentals are $4 per person
1117 Washington Ave. St. Louis, MO 63101 * Flamingo Bowl
---

Tropicana Lanes
Tropicana Lanes reminds of of bowling's golden years. Missouri's largest bowling center with 52 lanes has been part of St Louis since they opened in 1960. Professional Bowling Titles have been won, College Championships have been decided, and countless numbers of families and friends have enjoyed the lanes at the "Trop."
Boasting a population of 3+ million it's a large city with endless entertainment options yet it's still full of friendly midwestern folks that enjoy BOWLING! The city was home to the Famed Budweiser Team and bowling legends like Dick Weber, Pete Weber, Ray Bluth, Bo Burton, and so many more. The city loves to bowl and Tropicana Lanes is part of that proud tradition for almost 60 years!
Rate: $30 lane per hours (5 People) and $4.50 Shoe rental
7960 Clayton Rd Richmond Heights, MO 94102 * Tropicana Lanes
---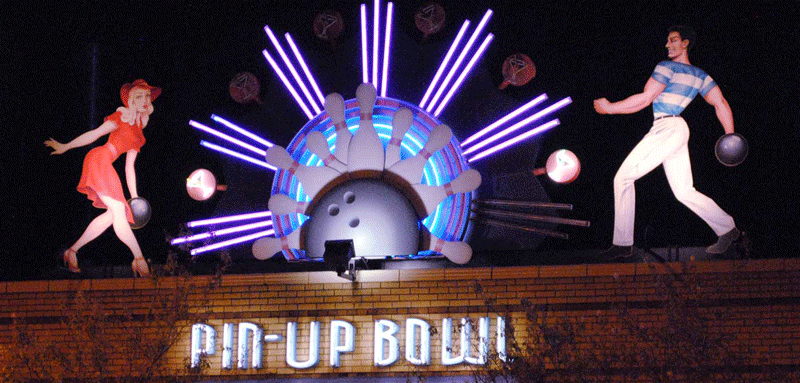 Pin-Up Bowl
Pin-Up Bowl is a unique, intimate bowling alley and lounge in the Delmar Loop. Owner Joe Edwards, local Loop leader, has filled the walls and display cases with his signature collections. You'll see bowling and 1940s pin-up girl memorabilia you won't see anywhere else. Pin-Up Bowl is also known for their great bartenders and signature cocktails.
You'll love private parties at Pin-Up because they're and intimate and unique. Bowling really is the backdrop and it gives people something to "do" while they enjoy food, drinks and great company. Pin-Up Bowl Guests can enjoy birthday parties, wedding events and work parties. They even host kids' birthday party packages!
Sunday–Thursday – $4/game per person
Friday–Saturday – $5/game per person
Shoe Rental $3
6191 Delmar Blvd, St. Louis, MO 63112 * Pin-Up Bowl
---

Crestwood Bowl
Crestwood Bowl is a clean and comfortable 24 lane, privately owned Bowling Center located in the St. Louis, Missouri suburb of Crestwood. Crestwood Bowl hosts a Full-Service Lounge and Snack Bar. Birthday Parties, Company Parties, Rock'n Bowl, League Bowling and Open Play are offered, assuring fun for the entire family.
Crestwood Bowl has different types of bowling leagues including traditional bowling leagues, different scoring methods like 9 Pin No-Tap (9 or more on your 1st Ball counts as a strike), different prizes (some leagues have cash prizes, or trophies and others have fun licensed merchandise). You can even bring along 10 or 20 of your best friends, form your own bowling league and set your own rules.
9822 Watson Rd, St. Louis, MO 63126 * Crestwood Bowl
---

Epiphany Bowling Lanes
The Epiphany Bowling Lanes are open to the public, but clearly belong to the community of parishioners who make up the Epiphany of Our Lord Catholic Parish. The quaint bowling facility is clearly borne of the adjacent church and tidy neighborhood of Lindenwood Park.
Weekly bowling league leader boards are posted prominently, and the facilities are blue-collar and immaculately clean. Birthday parties and other events are very popular here and an adjacent room that accommodates more than 100 people can be rented for approximately $100. There is a standard grill with snacks and drinks, plus arcade games and pinball machines.
Rates: Shoes cost $1.50 and games are $2.00 before 6 p.m. and $3.00 after.
3164 Ivanhoe Avenue Saint Louis, MO 63139-2550 * Epiphany Bowling Lanes
---

Shrewsbury Lanes
Serving the family and league bowler needs of Shrewsbury, Missouri for decades, everyone in town knows Shrewsbury Lanes is the place to go for great food and a great time. Also specializing in league play and tournaments, with regular competitive bowling every week, experienced bowlers and novice bowlers alike will feel right at home every time they come to Shrewsbury Lanes.
Shrewsbury Lanes also hosts corporate events, birthdays, graduation parties and more. With a large selection of food items including pizza and hot dogs, as well as soft drinks, beer, and more, Shrewsbury Lanes has everything you need to have a rocking good time.
Monday through Friday 11am-5pm $4.00 per game
Monday through Friday 5pm-Close $30.00 per hour, per lane
Saturdays and Sundays $30.00 per hour, per lane
Shoe rental $4.00 per pair
7202 Weil Ave, St. Louis, MO 63119 * Shrewsbury Lanes

Olivette Lanes
For generations, Olivette Lanes has been the home of bowling fun for St. Louis. Centrally located, Olivette Lanes is open 7 days a week for parties and open bowling. They have 24 lanes, with video screens and automatic scoring and a full-service bar & grill.
Olivette Lanes are clean and well-lit, and the building is 100% smoke free. Customers can stop by afterhours to enjoy a late-night party or cosmic bowling – the kitchen is always open late!
Sunday–Friday – $25 per lane
Saturday – $30 per lane
Shoe Rental Prices vary
9520 Olive Boulevard Olivette, Missouri 63132 * Olivette Lanes